Paper Products
Packaging by Kari-Out®
Kari-Out® offers an assortment of paper types, allowing for multiple functionalities to suit your needs. Paper Bags are an environmentally friendly choice. Our Pinch Bottom bags can be custom printed. For custom printing, call for pricing and minimums.
FOOD PAILS
Coated Board Containers have a protective barrier on the inside of the container, keeping food moisture from wicking to the outside of the container. This makes for a clean and presentable package to the consumer. The interior coating assists in maintaining the containers strength, by preventing moisture from penetrating the Board. Coated Board Containers, without wire handles, are Microwave-Safe.
Traditional Food Pails with Wire Handles

Formosa Brand, in Pagoda Print or Plain White

Microwaveable Food Pails (no wire handles)

Smart-Serv, in Red/Gold Double Happiness Print, Red Fortune Print & Plain White
Fan/Bowl Print
CHICKEN BOXES
Custom printed chicken take-out boxes are available in up to 3 color custom prints for very low minimums
FOOD TRAYS
Kari-Out offers various colors and sizes available for all your food tray needs.  Our Poly-coated trays come in sizes ranging from 4.25″x3.25"x1.25" to 8.125 x 5.875 x 2.125.  Contact us for more details and a catalog.
HINGED BOXES & CLAM SHELLS
Kari-Out offers hinged boxes and clam shells suitable for sandwiches, snacks, hot dogs, burgers, and more!  We have white and Star Motion boxes for your needs.
GLASSINE FOOD BAGS
Glassine food bags have a pinch bottom and the highest grease resistant properties. Recommended for all types of fried foods; Egg Rolls, Tortilla Chips, Donut holes, etc.
Plain, Lady, and Pagoda label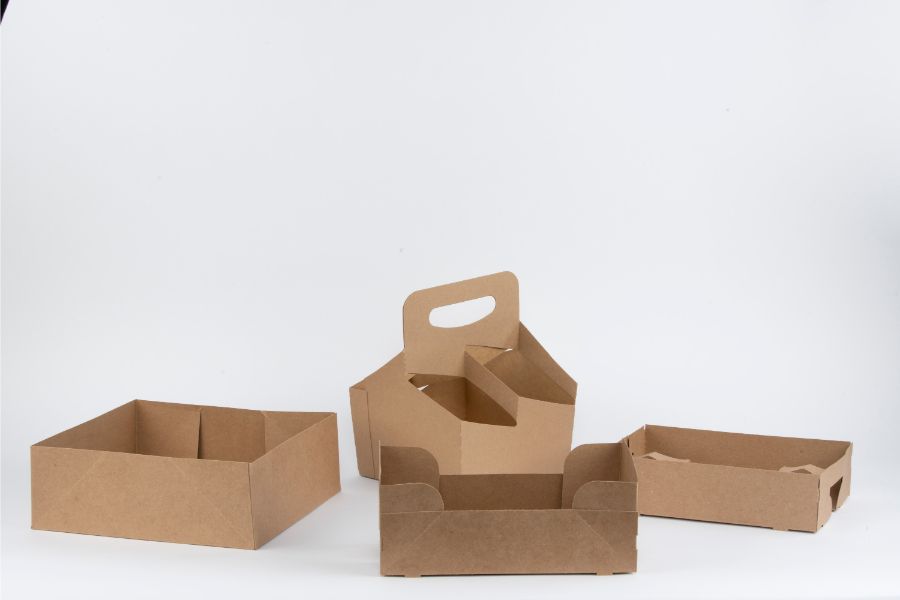 CARRY TRAYS
Our solid paper carry trays from Kari-Out handle to-go needs for drinks, food, and more. 
PAPER SOUP CUP
Paper Soup Containers have heat-sealed side seams to prevent leaks. It is made of extra-rigid paper and poly-lined inside and out. Won't get soggy and extra strong rim.
PAPER BAGS
Paper shopping bags that are perfect for both take-out food orders and retail purchases.
Sturdy Brown Kraft handled bags with automatic bottoms. 
Small, Senior & Jumbo
Sizes also available in Trim and Super
SPECIALTY BAGS
Foil Insulated Bags, with pinch bottom. Foil lined bags assist in keeping hot foods warm and cold foods cool. The foil also is a good barrier to keep contents from wicking to the outside of paper.

Plain, Red and Black Flame label, Chinese Red label

Bleached Kraft Bread Bags, with pinch bottom. Paper Bread Bags offer a protective cover, while allowing the bread to keep it's natural texture and adds to the homemade appeal

Plain White Bread Bags, 2-Color and 3-color Sub bags

Greaseproof/Dry Wax & Wet Waxed Sandwich Bags, with pinch bottom. Dry Wax Bags offer a moderate grease resistant property. Wet Waxed Bag offers stick resistant surface. Use Dry Wax for sandwiches and Wet Waxed for pastries.
Small Bleached Kraft Bags to meet your sanitary needs.

Waterglass, Sani-Nap, and Prescription
PIZZA BOXES
Kari-Out ® has a wide variety of individual paper pizza boxes for the slice on the go!
Kari-Out® Acquires Paper Bags USA to Address Growing Food Service Industry Needs (Tarrytown, NY, April 12, 2022) Kari-Out Company, a leading manufacturer, importer, andnationwide distributor of paper, aluminum, recyclable food containers and food ingredients in the...
read more